The National Endowment for the Arts is committed to providing leadership in arts education and to enhancing the quality of and access to arts education for our nation's young people.
Staff
Arts Education Director
Staff
Nancy Daugherty

Denise Brandenburg

Terry Liu

Lakita Edwards
An online grant search is available to find information on NEA grants from 2000 to the present.
Lifetime Honors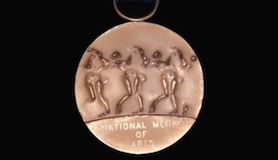 The National Medal of Arts is the highest award given to artists and arts patrons by the United States government and is awarded by the President of the United States.