The National Endowment for the Arts' arts education program is focused on pre-K to 12th-grade students, the educators and civic leaders who support them, and the schools and communities that serve them.
Staff
Arts Education Director
Staff
An online grant search is available to find information on NEA grants from 2000 to the present.
Lifetime Honors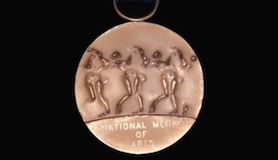 The National Medal of Arts is the highest award given to artists and arts patrons by the United States government and is awarded by the President of the United States.
Collective Impact
The NEA's Arts Education Strategic Plan is grounded in collective impact. Learn more about this concept and the plan here. We invite you to share collective impact stories about your community, including successes and challenges at collectiveimpact@arts.gov.